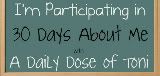 Today is all about the then and now. I'm suppose to post a picture from at least 10 years ago and one of me from now. Here's a pic taken of me over 10 years ago:
[caption id="" align="aligncenter" width="230" caption="9th grade basketball"]
[/caption]
This was taken- OMGosh- TWENTY ONE YEARS AGO. I was totally thinking it was maybe 15 years ago... Nope. I'm that old. Wow. I feel old.
This picture was taken on vacation in Florida just a few weeks ago. :) Well... my eyes and smile are the same. ;)
[caption id="attachment_3969" align="aligncenter" width="324" caption="21 years and pounds later... haha"]
[/caption]