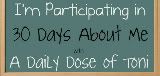 Wow
. How many posts can I start with "It's hard for me to choose just one..." I like so many different types of music. I'm not sure if I have an absolute favorite band.
I'll name a few I really love
...
Obviously
New Kids on the Block
... I realize their music is kinda boy-bandish corny, but they bring back memories and make me feel nostalgic. :) And how can you NOT love them when
one of the guys looks like this
NOW?? Woot woot!
[caption id="attachment_3849" align="aligncenter" width="480" caption="Donnie <3"]
[/caption]
I really like
No Doubt
.  I have all their cds including their old school stuff that probably never sold. I love Gwen Stefani and the whole band is just
FUN
. I saw them in concert maybe back in 2002?? I went with my sister--
so fun
!!! One of my fave songs by them is
Simple Kind of Life
.
[caption id="attachment_3973" align="aligncenter" width="320" caption="Awesomeness"]
[/caption]
I heart hairbands because I'm rad like that. My fave is probably Def Leppard. I've seen them in concert a few times and loved it every time.  My fave songs by them? Probably Animal, Hysteria... and Love Bites. :)
[caption id="attachment_3974" align="aligncenter" width="300" caption="Def Leppard"]
[/caption]
And last but not least... 2 more... haha
WEEZER is amazing and so is The All American Rejects!!!! Fave songs by Weezer: Holiday and Only in Dreams. And by The AAR, I love Gives You Hell, Swing Swing and Stab My Back. Did you know the lead singer, Tyson Ritter, was born at a Van Halen concert and wrapped in a Van Halen tshirt? Yeah... pretty cool. They are both awesome bands. I am hoping to see Weezer in October. *fingers crossed*
What's your favorite band or artist?