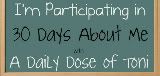 There's obviously lots of people who have had a huge impact on my life and I've had life changing experiences. One thing that had a huge impact on my life was my time at Anasazi. You can read about that HERE. Even though I was still a punk up until I became a mom, I learned things "on the trail" that I could never have learned in the "real world." It was a great experience.
A person who has had a huge impact on my life is most definitely my husband, Seiuli.
[caption id="attachment_3682" align="aligncenter" width="259" caption="My beautiful man"]
[/caption]
He is such an
amazing man
. He is patient, kind, giving, trustworthy, smart, a hard worker, fun, athletic, honest, loyal ... I could go on and on. He married me even though I was a poor, unemployed, bratty single mom with THREE kids. He jumped in feet first and
gave his all as a husband and father
. He is a wonderful example to my boys of what a man should be. He shows our daughters how a woman should be treated. And I honestly feel
he saved me
. I don't deal well with... bad stuff. I usually end up on a self-destructive path. He found me before that could happen and helped lead me to a happier, healthier place.  I am forever grateful to him. I love him more than I ever thought possible. It's been
10 years
since we met and almost since we eloped (hellz yeah!) and I can wait to be with him
forever
. :) Thanks for loving me Babe.