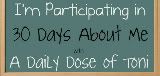 It's funny that this is the challenge to day because I was just thinking about this. At church we talked about letting our talents shine and not burying them.  Obviously we are all blessed with some sort of talent. Some of us have "talent show" talents that can be displayed. And others have talents that are part of our personality or a characteristic trait. My husband is abundantly blessed in both areas. He plays the piano BEA.U.TI.FULLY by EAR. Seriously- it's ridiculous. Check him out HERE. If he's heard the song, he can play it. It's awesome and disgusting at the same time. haha  Plus he's naturally a great police officer (Officer of the Year 2010 suckas!), smart, giving, great conversationalist...
I don't have any "talent show" talents. In fact, I hated talent shows growing up. I don't sing. I don't dance. I don't recite poetry. lol I played sports growing up and was a natural athlete, so sports were fun. I'm witty and use my humor to lighten the mood and be a peacemaker. Those are things that come naturally. I've had interests in different things, but never had the patience to stick with them long enough to become good at it. But about 8 years ago I found myself watching a "Signing Time" video that my sister gave me to use with my kiddos. I watched it and fell in love with American Sign Language.
I bought tons of the videos and worked with Isabel and Taj who were my 2 youngest. I started with Taj when he was over year and he picked up signs quickly. With Livie I started at just a few months old. I've talked about ASL a lot on my blog and Rachel Coleman (Creator of "Signing Time") even commented on this post!! I was stoked!!) Anyway, I'm rambling... My point is that I fell in love with ASL and over the years I have studied it on my own, renting videos and books from the library, and FINALLY took a REAL ASL class in college in the Spring. I love it. I'm NOT fluent- not even close. But I have that desire to be fluent some day. So, for now ASL is a hobby, not a talent. But I feel that it could be a talent and I am taking the time to develop it. Not only that, my oldest sons are both taking ASL in high school so we are able to learn together. :)
Here's my video story from my ASL 1 class. I made an A+. :) Make sure you turn on the annotations so you know what I'm saying...