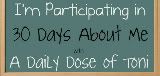 Picking a favorite movie for me is like picking my favorite song. Give me a certain genre and I can maybe narrow it down to a few...But here are a few.
I love Clear and Present Danger. Partly because I love Harrison Ford, but mostly because when Tristan was a baby I was a new mom, bored at home. I could get HBO on my tv... kinda. It all static-y, but Clear and Present Danger came on several times a day for weeks in a row. I swear I watched it 100 times-- and couldn't even see it clearly. haha And I loved it more and more each time. And I still love it now!!
Napoleon Dynamite:: Um, hi, need I say more? Napoleon just rocks.
Overboard: Growing up this was a family fave. Some of the funniest lines... my family still quotes it.
17 Again: Wow, hello Zac. I have this movie dvr'd and watch it as I use the elliptical. It's funny every time I watch it.
Facing the Giants: Makes me cry everytime. So uplifting and I always think, "Wow, I need to do better with my life..." everytime I watch it.
Sense and Sensibility: LOVE the entire movie and usually I suck at watching movies where they have accents. lol
Remember the Titans: Although I read more about this team and a ton of the movie is REALLY exaggerated, it is still one of the best sports movies ever made- and the soundtrack kicks butt.
Braveheart: Mel Gibson speaking with a Scottish accent, dirty with a sword and wearing a kilt. 'Nuff said.
13 Going on 30: So fun!! I guess I have a thing for movies where people are in the wrong body or age or whatever because I like Freaky Friday too!
Hoosiers: Again, another inspirational sports movie. I have loved this movie since it 1st came out which was forever ago!!
I could go on and on I think... What's your favorite movie?