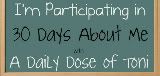 Today for the "30 Days About Me" challenge from A Daily Dose of Toni is to list a few of my favorite websites... Seeing how I am quite boring and don't really "surf the net" all that much, my list will be short.









Those are the ones I can think of off the top of my head.
What's your favorite website?