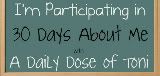 Today I am suppose to tell about my best friends... I am super lucky to honestly be able to call
my husband my best friend.
I mean, he IS. He accepts my faults... ALL of them. He spoils me and treats me so well.
He's seen me at my best and my worst.
He supports me and loves me unconditionally. He makes me laugh every single day. We have
FUN
together.  And we've been thru more in the last 10 years and survived- so
I know he's here to stay
. :)  (haha SUCKA!)
[caption id="attachment_3629" align="aligncenter" width="206" caption="He's mine."]
[/caption]
Stacy has been my "BFF" since 7th grade.
We've raised hell together, had babies together (ours are 3 days apart!) and are still super close today. I never feel judged when I'm with Stacy. I feel like I can be myself and
make no apologies
. I can also be a total re-re spaz and she loves it. ("re-re" is her word...)  My parents weren't always thrilled with Stacy because we got in so much trouble together. They always said she wasn't my friend because she let me be stupid- haha.  But when my little sister died out of all my "friends" in high school, Stacy and one other girl came to the visitation or whatever it's called. None of the "friends" my parents would have preferred came. But STACY was there.  That always meant so much. 
I love my Stacy and I'm glad we always make time for our friendship.
[caption id="attachment_3840" align="aligncenter" width="225" caption="That mannequin had ginormous boobs!"]
[/caption]
Tara, my sister, is also my best friend. She's the more mature of the two of us. ;) Even when I was a total loser she was always my advocate and tried to keep me in line. She can always make me feel better about myself and point out the good she sees in me. She's a great mom and an amazing sister. I also have a great set of parents as well. I joke that I am adopted because I'm pretty different than the rest of my family, but I can see characteristics of each of my parents that I have inherited. They are supportive of me and have helped our family in more ways than I can count. I am blessed.
[caption id="attachment_3817" align="aligncenter" width="300" caption="Dinner at Pompano Joes with Seiuli, my parents, sister, & bro-in-law"]
[/caption]