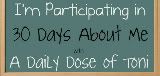 When I saw the subject for today
I giggled
. Anyone who knows me knows why. I am NOT a fashionista in any sense of the word. I am a jeans and tshirt kind of girl. It drives me crazy that my 12 year old daughter would rather wear her brother's hand-me-down workout shorts instead of the cute, new clothes I bought her.
Then I look down at what I'm wearing...
My 16 yr old's workout shorts and a free M.A.D.D. tshirt... Yeah... So...
I looked in my closet.
It seems I have a lot of shirts from Aeropostale. They have good sales... JCPenney's has great clearance... And Old Navy sends me coupons. lol But I really, really,
really
don't have a favorite clothing store. I'm all about comfort. I love flip flops if I must wear shoes. I like shorts, tshirts and jeans that fit me right-- which are hard to find. That's about it. My husband used to tell his friends that for my birthday he gave me
$20 to spend at Goodwill
and I was thrilled. ;D