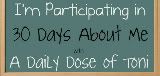 I've been participating in a "
30 days about me" challenge from over at
A Daily Dose of Toni.
I can't believe it's already day 27. I used to blog consistently, daily... But it's gotten to where I blog maybe once a month. I have
loved
doing this challenge and learning more about new blogging friends. :)
Today's challenge is to write about my worst habit. I have a lot of bad habits I think... The one my husband hates the most is my nail biting!!
I never have nails because I bite them off. And when I bite them I also grind my back teeth-- that's the past Sei can't stand. haha I bite them when I am stressed, nervous, bored or if they just happen to be getting "long"- which is funny because they are never long. I have had acrylic nails put on several times, but having long nails bugs me. I can't text. ;)
Another bad habit is eating when I am not hungry. I am an all-day snacker.
I wish I could say I snack on grapes and carrots... Nope. I am a straight-up sugar addict. There are some days that I think, "I never ate lunch or breakfast. Why am I not hungry?" Then I think back on all the crap I had snacked on and I realize why.  It's a horrible habit and I struggle with it daily. I'm workin' on it...
Probably my worst habit is putting myself down and comparing myself to others- whether it be looks or accomplishments. I look at myself and only see the fat rolls and the stretchmarks and my failures. 
I joke about me being "fat" which really I guess I am not "fat" but I am overweight and I weigh more than I ever have in my life. But I say mean comments about myself in front of my kids and that is wrong. I have a 12 year old daughter. I need to stop. I compare my faults and failures to others. I need to remember that everyone has their own challenges, their own faults and insecurities as well.
I'm sure I have plenty of other bad habits, but those 3 are at the top of my list... unfortunately. ;)