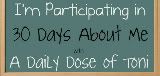 Picking favorites is so hard. When I was younger at church they had a "spotlight" on a kid every week. When it was my week they read my favorites. Apparently when I was 8 my fave food was fish (gag) and I loved "Price is Right." That would be true considering I practiced the games in the living room. You should have seen me putting the golf ball with my baton practicing "Hole in One." I ruled.
I also loved "Little House on the Prairie", "Highway to Heaven" and "The Brady Bunch." I am a Brady Bunch nerd. I even stumped a "Brady Expert" on the radio. Boo ya! One of my fave books? "Growing Up Brady: I was a Teenage Greg" by Barry Williams. lol
2 of my fave shows as an adult have ended: "Third Watch"-- never missed an episode once I started watching and that was before dvrs!!! And "24"-- love me some Jack Bauer. I heard the radio interview Kiefer Sutherland and they talked him into yelling: "GIVE ME A NAME!!!" It was amazing.
But now... hmm... I dvr quite a few shows, but wouldn't say they are "favorites." They are more like shows I watch because my husband works weekend nights and I'm bored. But the one show I really love and is not just a "guilty pleasure" like 'Teen Mom' or 'Desperate Housewives' would be "The Good Wife"- there hasn't been a lame episode yet! I actually got to review the pilot episode here on my blog and that's why I have watched it from the beginning. It's a really great show.
What's your favorite show??