DAY 30!!
I actually did it and stuck to it. Wow. I didn't realize
how much I missed blogging
until I actually blogged every day for a month.
Cool. :)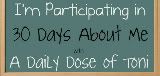 Today, the final day, I am suppose to write about
a dream of mine for the future
... I have a few. Some are more realistic than others, but if you're gonna dream, ya might as well
dream BIG
!! Right??
--
I plan to graduate from school in May 2013
... the same year Tristan will graduate high school. :) I will have a BS in Family Studies and will be a Certified Family Life Educator (CFLE). I would like to work as an
advocate for victim's
of drunk driving or domestic violence.
-- I would like to
travel to Australia
within the next 10 years.
-- I want to be
fluent in ASL.
--
I want to live near a beach.
(This is one of those things that will probably not happen, but I can dream...)
-- I want all my children to find amazing people to marry and be happy and healthy and
live their dreams
!! (preferably near me...)
-- I want my husband and I to
own a family
business that our kids can work at if they want to. I love how Sei's uncle own "Kahuku Grill" in Hawaii. That'd be awesome.
--  I want to be completely
out of debt
.
--
I want to be 25 pounds lighter
.
I am sure I have other dreams, but I am so tired right now that I'm drawing a blank... I will add more as they come to me. :)