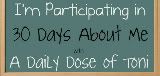 Considering I could probably count the books I have read as an adult on my 2 hands and feet (and that's only because one series had 9 books...) this shouldn't be too hard. I am not a big reader. I don't really enjoy it. If I read it, I must have been enjoying it. Most books I read really quickly. I don't think I can pick an absolute fave, so I'll just name a few I liked. Oh- I CAN tell you that when I was younger
Bridge to Terabithia
and
The Dollhouse Murders
were books I read over and over...
Back in 1997-98, I read
The Work and the Glory series
which has 9 books. I read it at least twice, but possibly 3 times. I wouldn't want to read it again because thinking back it was actually kind of corny, but at the time
I really enjoyed the series
- obviously. I liked learning the LDS church history via a historical fiction series, or whatever it's called. lol If I remember right, I liked books 4 and 7 the best...
From the books I can remember reading in the last 10 years they are all probably pretty generic because I only read something if people are saying over and over "
You really need to!!!
" That's right,
I am a book sheeple
. I am going to have to say I like...
The Host
by Stephenie Myers a lot. It took me a little while to get into it, but once I did it was great!! But I also just finished it last month so it's fresh in my head. I liked
Catching Fire
best in the
Hunger Games
trilogy. I can't remember why, but I just remember liking the 2nd book the most. haha
I liked the
Da Vinci Code
a lot. I, of course, read the
Twilight series
and I enjoyed
New Moon
the most because I heart Jacob Black. ;) I check out books from the library all the time... I just don't read them very often. I'm more of a movie-watching kind of girl. Although the Twilight movies have been pretty lame...
What's your fave book?