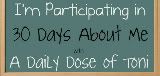 Today's challenge is to talk about my most treasured item. I can name things I never leave home without like my cell phone, iPod Touch, my Ruger LC9...  But those aren't really "treasured" items. This, however, is definitely a treasured item:

If there was a fire in our home, I would save this book. This is the side view of a huge 3 ring binder I put together my 1st Valentines Day with Seiuli. Inside it holds all the emails, cards, letters, etc.... that Seiuli and I have given each other over the years. It starts with our 1st emails when we "met" online. I LOVE this binder. I love reading thru it. I love adding to it!! And obviously I've already started a second one because this one is overflowing. I hope to need a 3rd and a 4th and a 5th... I love this binder and I love my husband. I am blessed.
What's your most treasured item?