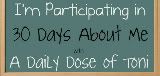 I have tons of pics that I love because they bring back great memories. Any pics when I am with my husband or my kids makes me happy. My family makes me happy. :) But I was trying to be "original" and find a photo that I wouldn't normally choose to share. So here goes:
[caption id="attachment_3937" align="aligncenter" width="330" caption="My parents... obviously in the 70s"]
[/caption]
This is my mom and dad back in the 70s at some point. I think it was maybe 73 or 74? I'm not positive. It makes me happy because
1)
My dad is wearing quite possibly the
ugliest shirt ever made
.
2)
He's also sportin' a perv mustache.
3)
My mom's scarf coordinates perfectly. lol
It shows happy, young love.
AND I can look back at this pic and think, "
Wow, and my parents are still married and they still like each other!!"
Having gone thru a divorce myself, and knowing so many people either divorced or from parents who are divorced, I realize I am
lucky and very blessed
to have parents that have been married 40 years. Yay! :) So, yes, this pic makes me laugh, but it makes me very
happy and proud
. :)